Have you been using Microsoft Edge as your browser for work and recently noticed a little briefcase over the Edge icon in your dock?  If so, say hello to the new Microsoft Edge for Business! According to Microsoft, it is a new experience "built for work that enables admins in organizations to give their users a productive and secure work browser across managed and unmanaged devices". While designed to meet the evolving needs of today's work environment, Edge for Business maintains the same rich set of enterprise controls, security, and productivity features admins and users are already familiar with.
The separation of work and play
If you are logged into a Microsoft-based email platform (such as Outlook) for work, the new Edge browser will automatically recognize you as being on a work account when you open it. Your new work home page – which can be customized by you – will include an interactive Microsoft 365 "card" that includes links to recent work, as well as your company's logo. Future versions will allow even more customization options that your admin can employ. Here's a bit of what my work homepage through Edge for Business looks like, with our CGNET logo and links to Teams, email, and more.
Determine and then spell out consequences/repercussions for lack of compliance.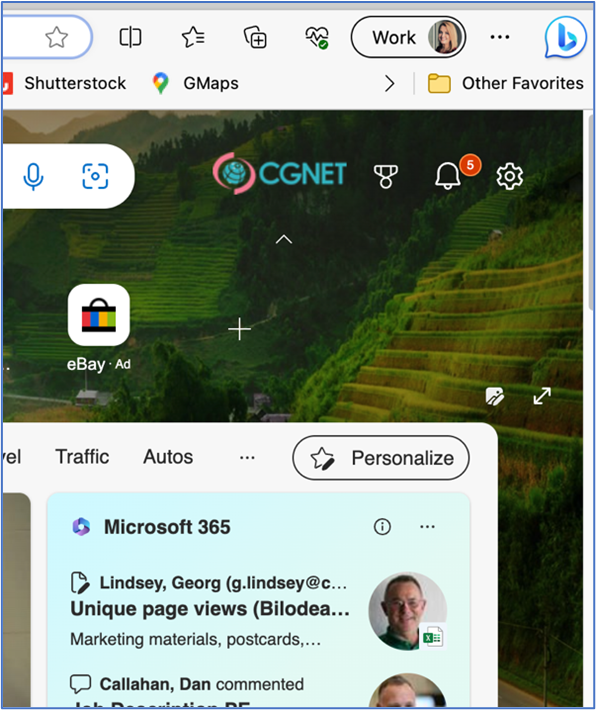 Additionally, if you also have a Microsoft personal email account (outlook.com, live.com, msn.com, hotmail.com) you can set up a personal profile on Edge. You can then have two separate Edge browser windows open at the same time, one for work purposes, and the other for personal. When you add this personal profile, Edge enables automatic switching to enforce browsing separation. Each window includes its own set of favorites, separate caches, and storage locations. This separation ensures that work-related content doesn't get mixed with personal browsing, preventing end users from accidentally sharing sensitive information with unintended audiences. Your personal home page does not include your organization's logo, or a card showing recent work, keeping it easy to distinguish between the two: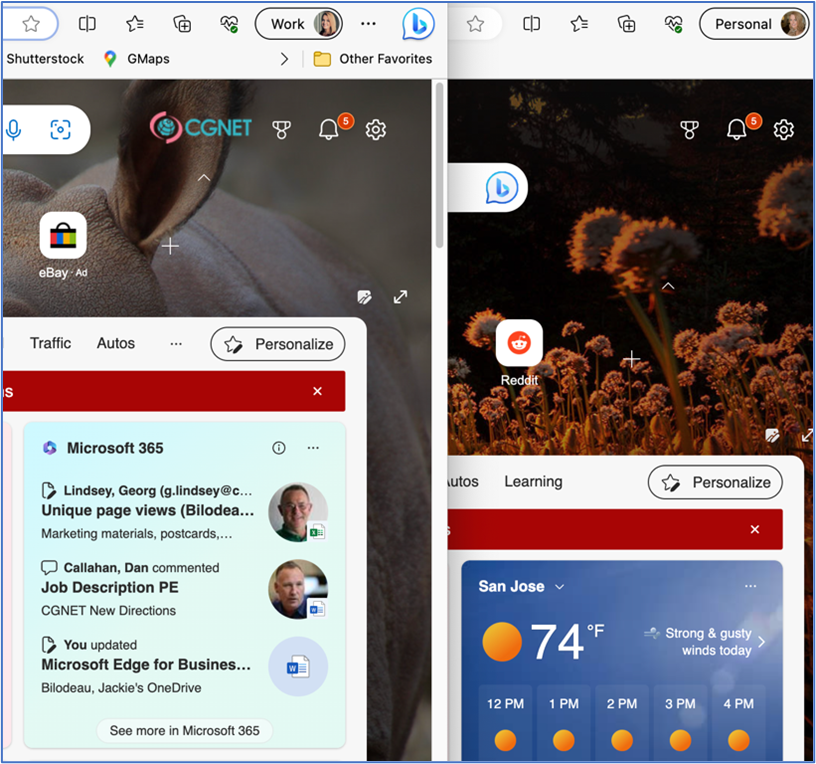 Bing Chat changes
Bing's chat bot has also been altered to accommodate whichever profile you are currently utilizing. When you are on your personal profile home page, Bing Chat works as it always does, encouraging input on anything from recipe suggestions to poetry writing. However, when you open Bing Chat from your work profile, you'll notice it is now labeled "Bing Chat Enterprise" and is more business-focused. For example, it offers to help write sales pitches, do analysis, and compare marketing strategies.
Security
According to Microsoft, Edge for Business is a "Zero Trust-ready browser that fights phishing and protects sensitive data with today's security and governance." The new personal browser profile automatically inherits the existing security policies of its work-based counterpart, for example, Application Guard and Enhanced Security Mode. It also adopts the same Data Compliance Policies, like Purview and Microsoft Insider Risk Management. Finally, it maintains existing Microsoft Edge Update Policies.